Wisconsin Dells is not only a popular family destination but also a fantastic place for adults to have fun and unwind. With its stunning natural landscapes, thrilling outdoor activities, vibrant nightlife, and unique attractions, Wisconsin Dells offers a wide range of experiences tailored to suit adults of all interests. Whether you're seeking relaxation, adventure, or entertainment, this article will guide you through the top things to do in Wisconsin Dells as an adult.
1. Explore the Natural Wonders
Wisconsin Dells is renowned for its breathtaking natural beauty. Begin your adventure by visiting the stunning Mirror Lake State Park, where you can hike, swim, and enjoy a picnic surrounded by picturesque views. Devil's Lake State Park is another must-visit destination, offering hiking trails, rock climbing, and even scuba diving opportunities. Don't miss out on exploring the awe-inspiring Witches Gulch, a narrow canyon with fascinating rock formations.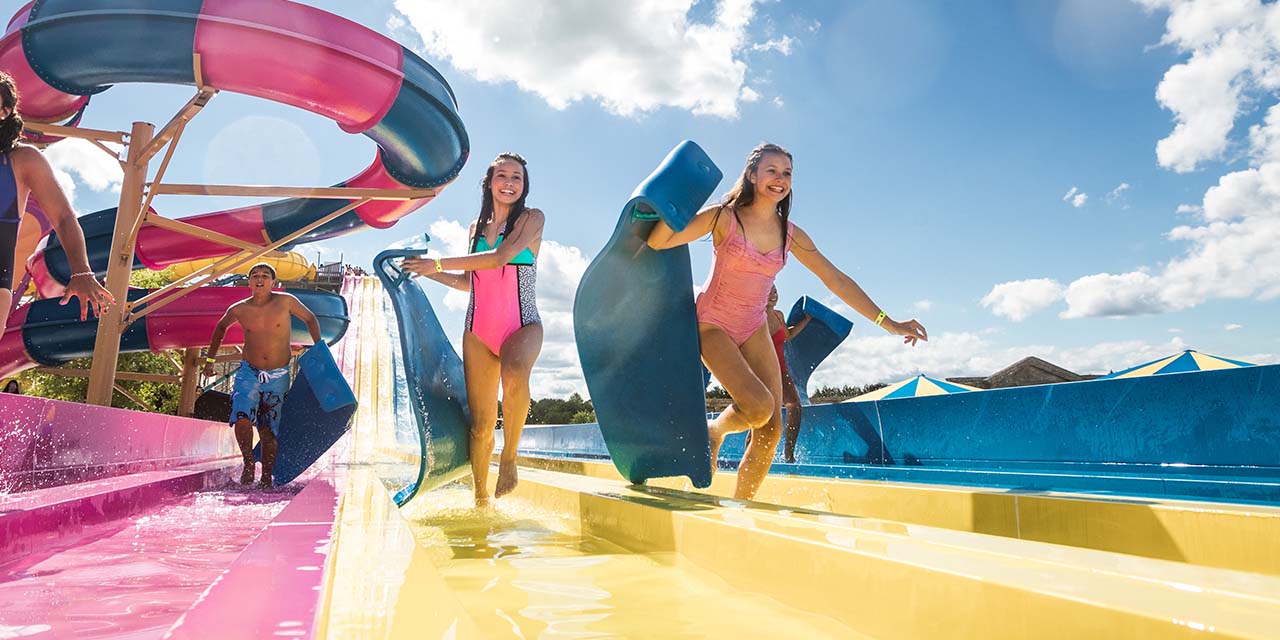 2. Indulge in Water Sports and Recreation
As the Waterpark Capital of the World, Wisconsin Dells boasts a wide array of water-based activities. Dive into the fun and make a splash at one of the many waterparks in the area, such as Noah's Ark Waterpark or Kalahari Resorts. Rent a kayak or canoe and paddle along the Wisconsin River, or try your hand at stand-up paddleboarding for a thrilling experience on the water.
3. Experience the Thrill of Outdoor Adventures
For the adventure enthusiasts, Wisconsin Dells offers an abundance of outdoor activities to get your adrenaline pumping. Zip-line through the lush forests, go rock climbing on towering cliffs, or embark on a thrilling ATV tour. If you're up for a unique experience, take a hot air balloon ride and witness the stunning landscapes from above.
4. Visit Wineries and Breweries
Wisconsin is known for its excellent wines and craft beers. Take a tour of the local wineries, such as Wollersheim Winery & Distillery or Baraboo Bluff Winery, and savor the flavors of their exquisite wines. Beer lovers can explore the many breweries in the area, including Moosejaw Pizza & Dells Brewing Co. and Port Huron Brewing Company, where you can enjoy a wide variety of handcrafted brews.
5. Enjoy Live Entertainment and Shows
Wisconsin Dells offers a vibrant entertainment scene with live performances and shows that cater to adult audiences. Catch a mesmerizing magic show at Rick Wilcox Magic Theater or enjoy a hilarious evening at the Comedy Club. For a unique experience, attend a dinner theater performance where you can indulge in delicious food while being entertained.
6. Treat Yourself to Spa and Wellness Retreats
Unwind and pamper yourself at one of Wisconsin Dells' luxurious spas and wellness retreats. Relax with a rejuvenating massageor indulge in a soothing facial. Many resorts in the area offer comprehensive spa packages that include access to saunas, steam rooms, and hot tubs. Treat yourself to a day of pure relaxation and emerge feeling refreshed and revitalized.
7. Discover the Local Cuisine
Wisconsin Dells is a food lover's paradise, with a diverse culinary scene that caters to all tastes. Sample the local delicacies, such as cheese curds, bratwursts, and fish fry, at charming local restaurants. Don't forget to try the mouthwatering Wisconsin-style pizza, topped with delicious local cheeses. Explore the downtown area to discover hidden gems and trendy eateries that serve up delectable dishes made with fresh, local ingredients.
8. Shop Till You Drop
Indulge in some retail therapy at the numerous shopping opportunities in Wisconsin Dells. From boutique stores offering unique clothing and accessories to outlet malls featuring popular brands, there's something for every shopper. Visit the Tanger Outlet Mall for great deals or explore the specialty stores in Downtown Wisconsin Dells to find one-of-a-kind souvenirs and gifts.
9. Test Your Luck at Casinos
If you're feeling lucky, head to one of the casinos in the area for some thrilling gaming action. Ho-Chunk Gaming Wisconsin Dells is a popular choice, offering a wide range of slot machines, table games, and live entertainment. Whether you're a seasoned gambler or just looking to have some fun, the casinos in Wisconsin Dells provide an exciting atmosphere for adults.
10. Explore Art and Culture
Immerse yourself in the art and culture scene of Wisconsin Dells by visiting local galleries and museums. The H.H. Bennett Studio & Museum showcases the work of one of Wisconsin's most renowned landscape photographers. Delve into the history of the region at the Museum of Historic Torture Devices or explore the Tommy Bartlett Exploratory, an interactive science museum that offers fascinating exhibits.
11. Attend Festivals and Events
Wisconsin Dells hosts a variety of festivals and events throughout the year, catering to diverse interests. From music festivals to food and wine events, there's always something happening in this vibrant city. Check the local events calendar and plan your visit accordingly to experience the lively atmosphere and join in the festivities.
12. Take a Scenic Boat Tour
Embark on a scenic boat tour along the Wisconsin River and marvel at the stunning landscapes that surround you. Choose from a leisurely sunset cruise or a thrilling jet boat ride. Learn about the history and geology of the area from knowledgeable guides while enjoying the tranquility of the river.
13. Play Golf on World-Class Courses
Wisconsin Dells is home to several world-class golf courses that offer beautiful views and challenging gameplay. Tee off at Trappers Turn Golf Club or Wild Rock Golf Club, both designed by renowned golf course architects. Enjoy a round of golf amidst the natural beauty of the region and make lasting memories on the fairways.
14. Discover the History of Wisconsin Dells
Explore the rich history of Wisconsin Dells by visiting historical sites and landmarks. The H.H. Bennett Studio is a National Historic Landmark and provides a glimpse into the life of the famous landscape photographer. Take a stroll along Broadway Street and admire the well-preserved historic buildings that date back to the 19th century.
15. Relax and Unwind in Luxurious Resorts
Wisconsin Dells is home to a wide range of luxurious resorts that offer unparalleled comfort and relaxation. Book a stay at one of the resorts with spa facilities, championship golf courses, and scenic views. Enjoy top-notch amenities, fine dining options, and exceptional service while immersing yourself in the beauty of Wisconsin Dells. poattorney.com
In conclusion, Wisconsin Dells offers a plethora of exciting and enjoyable activities for adults. From exploring the natural wonders and indulging in water sports to experiencing outdoor adventures and immersing yourself in the local culture, there's something for everyone. Take time to relax and rejuvenate at the spas, savor the local cuisine, and shop to your heart's content. Test your luck at the casinos, appreciate art and history, and attend the vibrant festivals and events. Whether you're seeking thrills, tranquility, or cultural enrichment, Wisconsin Dells is the perfect destination for an unforgettable adult getaway.
---
FAQs (Frequently Asked Questions)
1. Is Wisconsin Dells only suitable for families with children?
No, Wisconsin Dells offers numerous attractions and activities specifically tailored for adults. From outdoor adventures to winery tours, spa retreats, and live entertainment, there's plenty to do for adults of all interests.
2. Are there any luxury resorts in Wisconsin Dells?
Absolutely! Wisconsin Dells is home to several luxurious resorts that provide top-notch amenities, including spas, golf courses, and scenic views. These resorts offer a perfect blend of comfort, relaxation, and upscale experiences.
3. Can I find unique souvenirs in Wisconsin Dells?
Yes, Downtown Wisconsin Dells is a great place to find unique souvenirs. From boutique stores to specialty shops, you'll discover a variety of one-of-a-kind items to commemorate your visit.
4. Are there any adult-oriented events in Wisconsin Dells?
Wisconsin Dells hosts a range of events and festivals throughout the year that cater to adults. From food and wine events to music festivals and art exhibitions, there's always something happening in the city.
5. What is the best time to visit Wisconsin Dells as an adult?
The best time to visit Wisconsin Dells as an adult depends on your preferences. The summer months offer a vibrant atmosphere with outdoor activities and waterparks, while the fall season showcases beautiful foliage and harvest festivals. Winter brings the charm of holiday events, and spring offers pleasant weather for outdoor exploration. Choose the time that aligns with your interests and desired experiences.
Read More:- General Power of Attorney Form Texas: A Comprehensive Guide